7 min read
Staffing – A Never-Ending Nightmare, or Is It?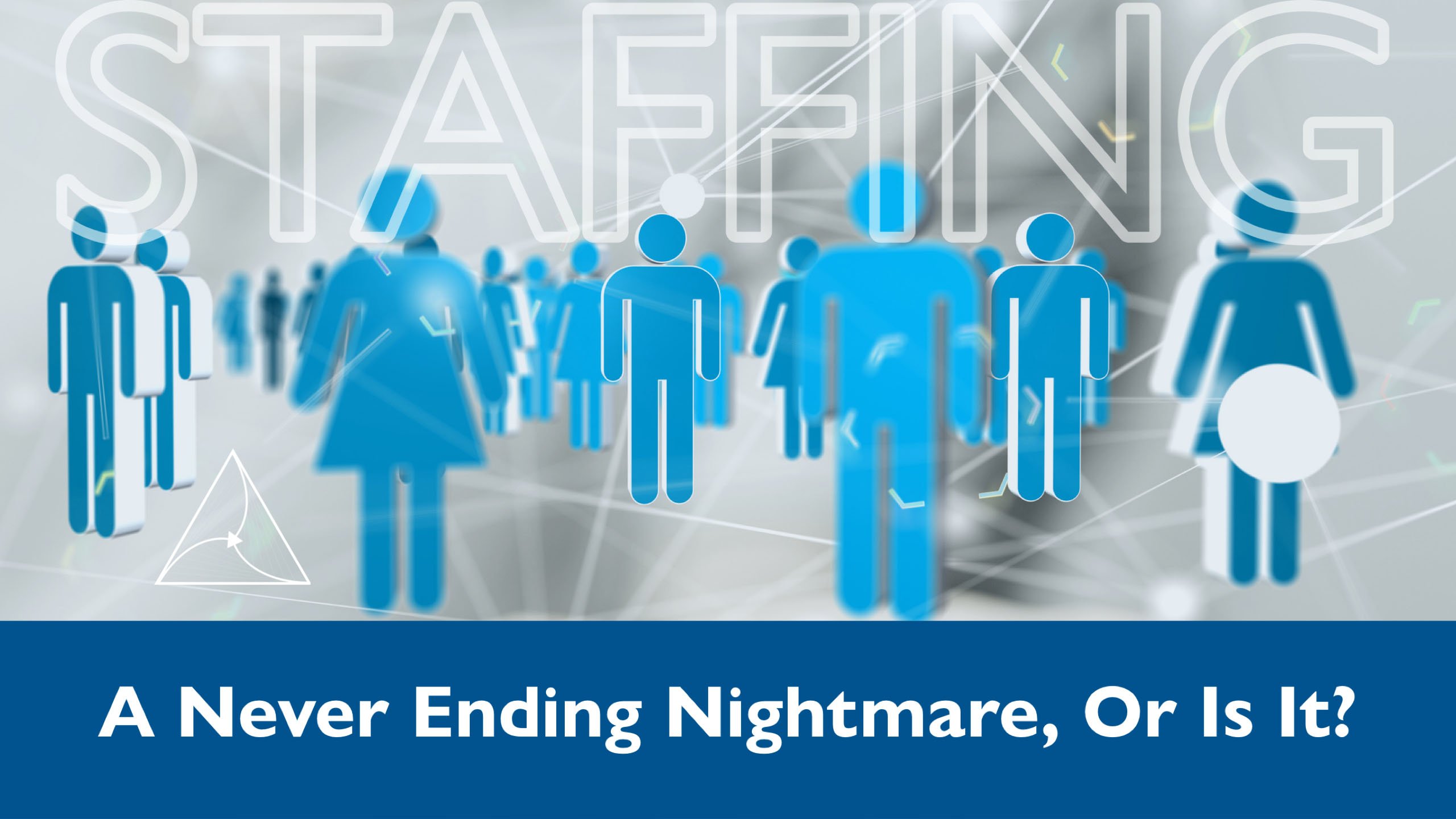 We have all had the experience where we receive the phone call that another nurse has called in when we are already short two nurses for the day. Maybe an aide has resigned, and we know finding an aide in our market is like finding a needle in a haystack. Lastly, we are always working with our team to understand how we can help them strike a good work-life blend because we know the importance of boundaries and allowing them time to recharge yet we never seem to be making the progress we want to make. At this point, you may be wondering what the purpose of this blog is. Well, good news... Believe it or not, staffing and productivity don't have to be the nightmare we all have known it to be from time to time. Feeling suspicious? I'm sure you are, so let's dive in!
If you have worked in hospice for any length of time you likely understand that adequate staffing is critical to the long-term success of your program and reputation in the community. It is staffing that allows us to achieve our long-term goal of providing high-quality patient care and remain a viable hospice program for years to come. As hospice leaders, we often find ourselves challenged by solving intricate puzzle-like pieces of staffing and may feel like this is where we spend most of our time. While we may not ever be able to eliminate the issue of staffing from our vocabulary, we can take steps to reduce the number of hours we spend focused on this topic. One of the most ideal ways to put a dent in the staffing crisis we find ourselves in is to focus on ways to reduce burnout as it represents one of the leading causes of turnover in healthcare.
Here are a few staggering statistics that help illustrate the importance of reducing turnover:
18% of healthcare workers have left their job during the COVID pandemic.

31% have considered leaving the field altogether.

Hospice Non admit rates (referral rejections) have increased and were roughly 36% from May 2020 – November 2021. These pressures have caused a number of hospices in the US to shut down, sell their business or downsize -

Referral Rejection Rate for Hospice Reaches 'All-Time High' of 41% - Hospice News
In one study, "Hospice Employees' Perceptions of Their Work Environment: A Focus Group Perspective" participants indicated that work overload and structural and administrative characteristics of the work more often bring about burnout versus dealing with death and dying day in and day out. IJERPH | Free Full-Text | Hospice Employees' Perceptions of Their Work Environment: A Focus Group Perspective (mdpi.com)
The question now becomes what is my role as a leader in changing the narrative around staffing or a lack of staffing in many cases. As a leader serving in hospice, we have the responsibility to support our team while managing expectations and one of the best ways we can do this is to evaluate performance with objective data avoiding subjective speculations. To put it more simply this allows us to avoid management by feelings and instead manage by facts.
It is best practice to establish a common point of reference for measurement and evaluation of performance using terms such as expected, averages, or minimums where minimums are absolute, and averages provide clinicians more latitude and serve as a GUIDELINE. ​ Averages also consider individual cases or situations which necessitate more or less time and effort required of the team.
While there are many things, we can do to improve staffing and productivity there is one thing we should avoid doing. The most important thing to avoid is sending a message to our team that says managing productivity is the number one priority as this tends to create a culture of "more with less" and "quality of care and work-life balance isn't a priority" which we know couldn't be further from the truth. Our goal is to create a culture that encourages our team to be part of the solution by considering industry best practices while keeping the focus on quality of care and outcomes. Our recommendation at TCN is that leaders focus on three vastly different but interconnected domains to include: case management, caseload monitoring, and productivity.
At TCN we seek to serve our members in a way that adds value to their day-to-day operational needs, and we work collaboratively to create solutions to their biggest challenges. Our goal when it comes to staffing is to provide members with:
tools and resources that can be tailored to meet their needs.

aligning with their culture

offering creative and out-of-the-box ideas for them to consider
We recommend a standard practice using TCN-developed resources and touchpoints to navigate the rough waters of staffing. These include a daily staffing huddle, a weekly end-of-week review, and a monthly staffing coordination meeting. In addition to these touchpoints, we offer tools to support the discussion and provide a frame of reference for balancing the workloads of our team by creating a collaborative, supportive, and transparent way of operating all while meeting the needs of those we serve. ​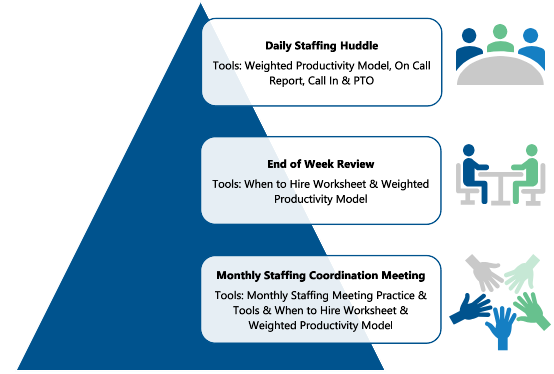 A Culture of Teamwork – Ways to Collaborate and Promote Productivity and Schedule Management:
Staffing Huddle – Teams working together to promote a culture of teamwork enhancing productivity while ensuring patient needs are met timely.

End of Week Review – Proactively identify who has the capacity to take new admissions as well as assist teammates who are over productivity for the next week. This will also allow for a proactive review of staffing for daily huddles.

Staffing Coordination Meeting – Bringing clinical leadership and HR together to discuss and better understand staffing needs allowing for open discussion and teamwork to create an all-hands-on-deck approach to hiring and retention.




In conclusion, staffing takes a village and while the topic of staffing will never go away completely, we can make staffing a less ulcer-producing event and a more collaborative and strategic discussion.
Amy Ford
Vice President Of Serious Illness Clinical
Operations & Population Health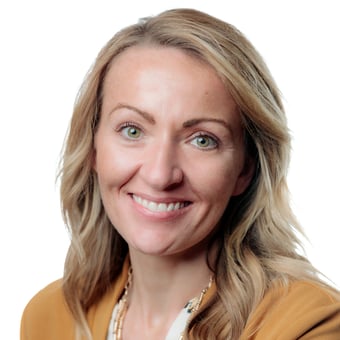 ---
---
---
---

---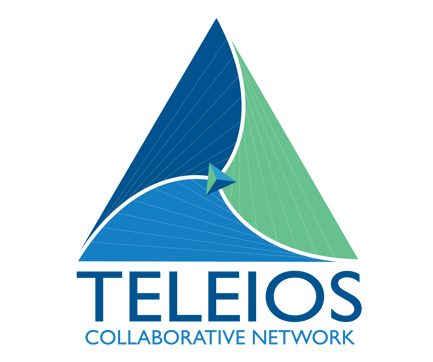 An organizational model that allows nonprofit hospices (Members) to leverage best practices, achieve economies of scale and collaborate
in ways that better prepare each agency to participate in emerging alternative payment models and advance
their charitable missions.
Subscribe to TCNtalks on one of these wonderful platforms: