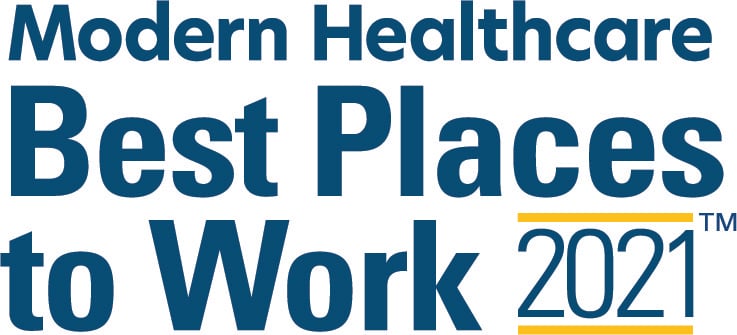 Teleios Collaborative Network recognized as one of the
Best Places to Work in Healthcare in 2021
Teleios Collaborative Network has been selected by Modern Healthcare as one of the 2021 Best Places to Work in Healthcare. The complete list of this year's winners, in alphabetical order, is available at. ModernHealthcare.com/bestplaceslist. Modern Healthcare will publish a special supplement featuring a ranked list of all the winners along with the September 20 issue of MH.
"One year into the pandemic, we've seen the industry transform to meet the needs of its patients and employees," said Aurora Aguilar, Modern Healthcare's editor. "Time and time again, the most resilient and successful organizations show that empathy towards their staff, clear vision and compassion towards the patient buoys teams and sets them up for success. We congratulate the Best Places to Work in Healthcare for eliciting loyalty from their workforce and communities during harrowing times."
Teleios Collaborative Network (TCN) is a not-for-profit organization that has created a clinically integrated network that shares expert leadership, industry best practices, and resources with its member organizations, allowing community-based, not-for-profit hospice and palliative care agencies to continue their work of providing compassionate care for those facing serious illness or end of life challenges. TCN was founded in 2017 by Four Seasons and Carolina Caring and co-founded by Caldwell and Mountain Valley Hospice and Palliative Care organizations. TCN is currently comprised of eleven organizations and serves members in North Carolina, South Carolina, Virginia, Louisiana, and Texas.
Chris Comeaux, President and CEO of Teleios Collaborative Network said, "I am so proud of our TCN Team. We have worked very hard to build the organization that we all wanted to work for one day. The intentionality in everything from our logo to our culture to our reward and recognition program all reinforces our mission, vision, and values. This award is an impressive acknowledgement that we are on a great journey and making good progress. Congrats to the TCN team."
"Our organization is honored to be recognized by Modern Healthcare as an outstanding employer in the healthcare industry on a national level. It is a true testament of our organization living our Vision, Mission, and Values, creating an exceptional workplace environment for our employees," said Teleios Collaborative Network's Board Chair, D'Ann Grell.
This award program identifies and recognizes outstanding employers in the healthcare industry nationwide. Modern Healthcare partners with the Best Companies Group on the assessment process, which includes an extensive employee survey.
Teleios Collaborative Network will find out their ranking on the Best Places list and be celebrated at the 2021 Best Places to Work in Healthcare awards gala taking place on September 16 at the Radisson Blu Aqua Hotel Chicago. Information on the award gala and conference is available at ModernHealthcare.com/BestPlacesGala.
---
Contact: Tina Gentry | Phone: (843) 441-7098 www.teleioscn.org TELEIOS COLLABORATIVE NETWORK