What is Project ECHO?

Started at the University of New Mexico Health Sciences Center in 2003 by gastroenterologist Dr. Sanjeev Aurora, Project ECHO (Extension for Community Healthcare Outcomes) is a movement to demonopolize specialist knowledge and amplify the capacity to provide best practice care for underserved people. It began by developing an educational model to train frontline primary care providers in rural/underserved areas of New Mexico to care for patients with hepatitis C in their own communities. Using multisite teleconferencing, Project ECHO links specialists in a particular field at a "hub" with clinicians in local communities who are considered the "spokes" of the model. Together the hub and spokes participate in weekly videoconference "teleECHO" sessions (see Anatomy of a Project ECHO Session below) that allow for knowledge sharing and mentoring.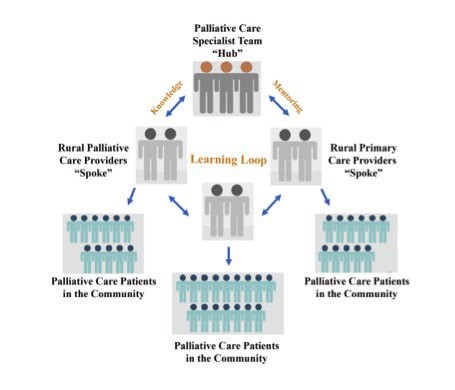 If you want to learn more about Project ECHO's roots, watch Dr. Aurora speak at TEDxABQ: https://www.youtube.com/watch?v=lY5nlJxac0g
Since 2003, Project ECHO has grown to more than 130 ECHO projects in the United States and internationally, covering 65 complex medical conditions and other problems including COVID19. Please check out their website for information on how to get involved. Echo.unm.edu
For more information or to join one of our projects, please see specific project pages.
In the Press:
https://www.cambiahealthfoundation.org/posts/news/2020-05-05/cambia-health-foundation-commits-3-million-to-address-c.html
https://onlinelibrary.wiley.com/doi/10.1002/nur.22105
Project ECHO: A Disruptive Innovation to Expand Palliative Care
https://www.capc.org/blog/palliative-pulse-the-palliative-pulse-february-2019-a-progress-report-expanding-palliative-care-with-project-echo/
https://www.capc.org/blog/resilience-in-the-face-of-covid-19-an-update-from-four-seasons-project-echo/
https://mountainx.com/blogwire/four-seasons-receives-grant-to-expand-palliative-care/
https://www.capc.org/seminar/poster-sessions/project-echo-in-palliative-care-bridging-gaps-in-provider-education-and-support/